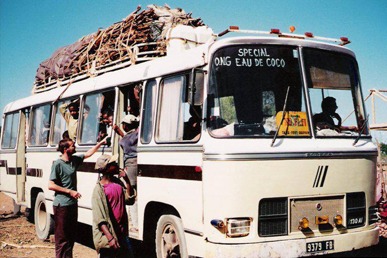 More than 20 years of history
Coconut Water was born on December 20th 1994 in order to meet the needs of the families of the streets in Battambang city (Cambodia).
Later it spread to Brazil and Madagascar and the target was the needs of the children.
Nowadays Coconut Water  mission is to contribute to the improvement of the quality of life of the groups in situation of social exclusion in southern countries, where there are more than 40,000 people benefitting from our projects in 3 continents.
Step by step
The 90's: The beginning
After the genocide perpetrated in Cambodia, the lack of resources turned wit into the best weapon against death. In hospitals, injured men were given coconut water intravenously during the war and we wanted to adopt it as the sign of identity for an NGO that was born with a very ambitious aim: the social and labour rehabilitation of street families. Ptea Teuk Dong was the name in khmer of José Luis Guirao's first project and it translates as "The House of the Coconut Water"
End 1995 – early 1996, Jose Luis Guirao moved to Rwanda to assist the population displaced by the Tutsi genocide. But the governmental action to silence the slaughter forced many humanitarian organizations to leave the country and all the voluntary workers – including Jose Luis Guirao – left Rwanda in 1996.
Jose Luis moved to Madagascar where he started a new project to help street families in Fianarantsoa.
The Beginning of the 21st Century: New Challenges
In Spain, the year 2000 represents the year of internal organization.
And in America, hand in hand with the Asociaçao Dos Inhabitants Joanes Leste,  a new project is started to help the most disadvantaged women of the favela of Alagados in Salvador de Bahia (Brazil),
In Madagascar and Cambodia new programmes are developped – popular cinemas, women's training in jails, craft making and selling. The projects expand and they involve more and more families.
In 2003, the local NGO Bel Avenir is born to develop new projects in Tulear – south of Madagascar.
In the year 2004 we reinforce our agreements with PTD Holland, to attend to the activities of Cambodia.
The consolidation of a project
At this stage, Madagascar has the bulk of the projects.
Training projects, the farm school, two schools of primary education to rescue children and girls from child labour and a number of activities for children at risk of social exclusion.
The music project is born with Malagasy Gospel, a gospel choir of girls of different projects, with or without a disability.
In 2009, before the increase of voluntary workers and volunteers in Madagascar, Coconut Water opens the  Mangily Forest Center, to host them and to promote solidarity tourism all over the world. In addition, after a food-processing study, we begin growing moringa, a plant with high energetic value that is used as a nutritional supplement for soup kitchens run by Agua de Coco.